I am currently reading a book by Ken Collier, called "Agile Analytics, A Value-Driven Approach to Business Intelligence and Data Warehousing".
This book is specifically written for Agile BI and Data Warehouse projects and includes a BI project scenario for a factitious company called FlixBuster.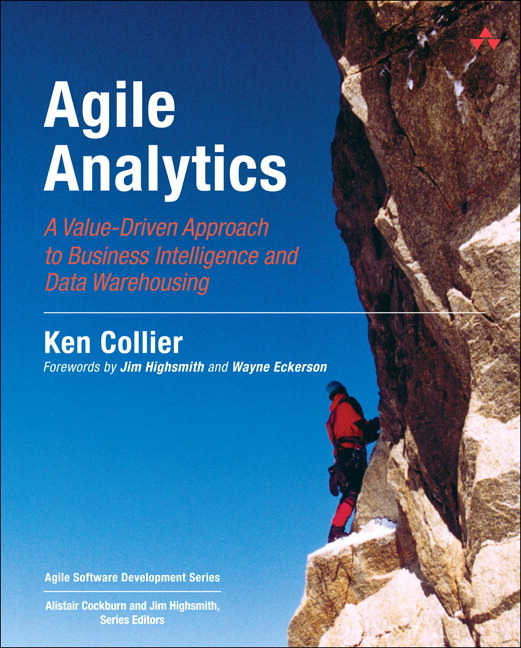 The book has two parts:
Part I is about Agile Management Methods and concentrates on  management of Agile BI projects and teams. This part covers topics such as User Stories for BI Systems and Self-Organising Teams Boost Performance.
Part II is about Agile Technical Methods for delivery of BI systems and how the team can drive business value by producing working BI/BW results often. These will include topics such as Design,  Test Driven Data Warehouse, Version Control and Project Automation.
An excellent and unique book for both BI/DW Project Managers,  Scrum Masters and the technical BI/DW teams such as ETL Professionals, DBAs and Source Data Specialists. Also great for companies who would want to run their own internal BI/DW Agile projects.
I end this brief introduction with a couple of quotes:
"A sweeping presentation of the fundamentals that will empower teams to deliver high-quality, high-value, working business intelligence systems far more quickly and cost effectively than traditional software development methods." — Ralph Hughes, author of Agile Data Warehousing
"This book captures the fundamental strategies for successful business intelligence/analytics projects for the coming decade. Ken Collier has raised the bar for analytics practitioners—are you up to the challenge?" — Scott Ambler, Chief Methodologist for Agile and Lean, IBM Rational Founder, Agile Data Method